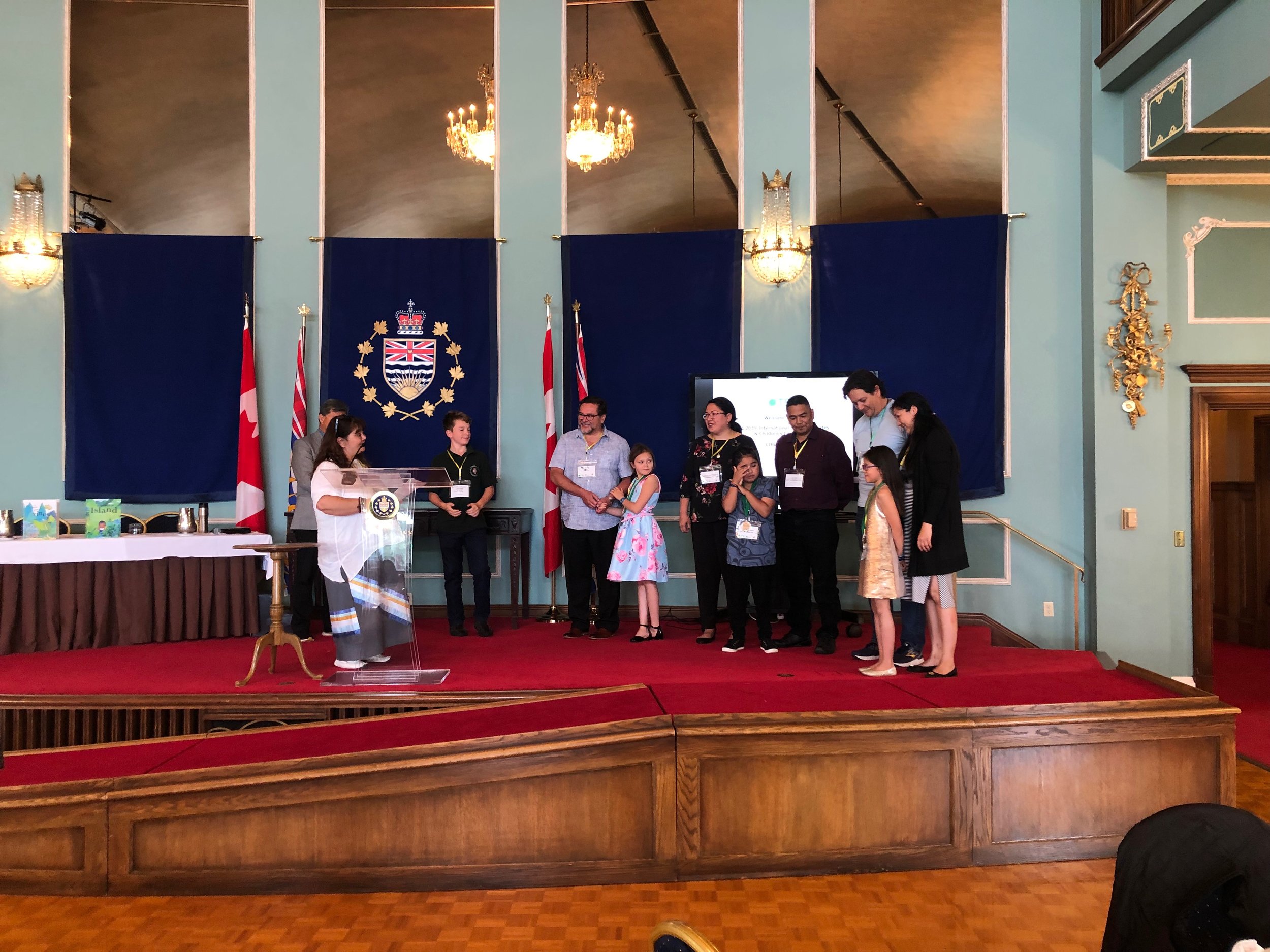 With warmest thanks to Ms Monique Gray Smith, Goodwill Ambassador for indigenous child authors, the Voices of Future Generations Children's Initiative congratulates the winners of the 2019 Indigenous Child Author Competition:
Gold and Child Author - Adelyn Sophie Newman-Ting, The Stories of Hope
The Stories of Hope tells the story of children meeting and talking to animals, figuring out how to save the environment and native languages at the same time. The story highlights inter-generational justice, demonstrating how the elders, as repositories of knowledge about environment, culture and language, can assist young people towards sustainability.
Adelyn "Addy" Sophie Newman-Ting lives in Victoria, British Columbia with her mother, a schoolteacher, and her father, a master carver, professor and First Nations artist. She wrote The Stories of Hope at age 9. She is Kwakwaka'wakw and Coast Salish, also English, Irish and Scottish, and Chinese from Taiwan. Her Indigenous name is Kesugilakw meaning leader of people, and her Chinese name is Ting Li-Wen meaning pretty flower cloud. Addy enjoys dancing, brownies, jump roping and singing, and is an avid reader, writer and artist, working on her first book about carving a totem pole for Oaklands Primary, her school.

Silver (tie) and Child Ambassadors for the SDGs - Bella Morrisseau Whiskeyjack, Honor the Treaties and Sydnee Wynter Aime Nisyok, The Important Message
Honor the Treaties tells the story of Treaty 6 in Canada and the impacts it has had on First Nations communities as well as their lands and customs. It explains the ways that children are impacted by the residual impacts of the Treaty and suggests how children and young adults might be involved in addressing these impacts. Bella Morrisseau Whiskeyjack was born in Edmonton, Alberta and is a member of the Saddle Lake Cree Nation. She lost her father at an early age, and is raised along with her brother by a loving Grandfather of the Grand Rapids Cree. Bella loves school and spending time with her family and friends. She has been recognized for her outstanding writing talents through school awards and wishes to be a writer in the future. She also is interested in veterinary sciences and construction.
The Important Message tells the story of a young girl who becomes an inventor to help stop climate change and its effects. The story highlights imagination, teamwork, a supportive family and community for countering climate change and generating innovation. Sydnee Wynter Amie Nisyok is from the Ganada (frog) Clan of the Nisga'a Nation and Haisla Nation in Northern British Columbia. She wrote her book at age 8, while in the 3rd grade. Sydnee loves learning science and being with her best friends. She also has a love of animals, especially her three pets, and is an Earth Ranger, where she enjoys completing environmental saving missions to help save the animals and the planet. Sydnee also loves to play soccer basketball dance swim horse riding and the guitar. One of Sydnee's dreams is to become a scientist to help the planet.
Anisa Daniel-Oniko will be appointed as an SDG Ambassador
Anisa Daniel-Oniko loves writing, reading and words. In 2017, at age 10, she drafted her first book, Double 'A' for Adventure, and she is currently working hard on her next story to be considered for the next African child author selection.
Each of these stories represent the inspiring perspectives of child authors on the unique sustainable development challenges facing their local communities, regions and the world, as voices of future generations in decisions that concern them.